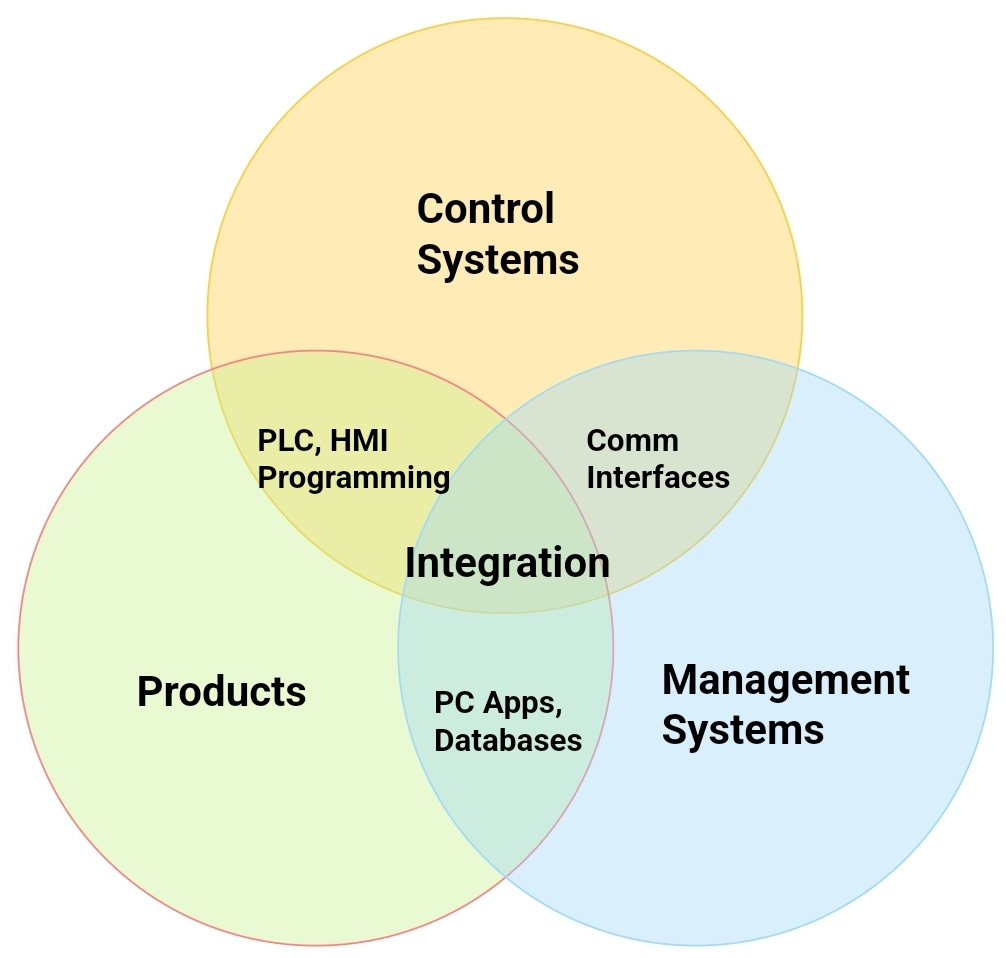 What is a software systems integrator?
KCC Software specializes in integrating software systems. We are programmers and software engineers that understand and enjoy manufacturing processes. KCC Software is uniquely capable of programming PCs, PLCs, networked solutions, database creation/population/reporting, and web-based pages and reporting. With tremendous hardware from our suppliers, like AutomationDirect, our capabilities to design and develop effective and efficient solutions may be just the answer you need to improve your plant performance or achieve a result that has so far been unreachable.
What can KCC Software do for you?
Create a custom application to satisfy your specific requirements
Interface an existing application (or a new application we develop) to a database, MES, or ERP system
Add new functionality or capability to an existing application
Develop your new product
Integrate/automate your manufacturing line, cell, or machine
Get your vital information from the plant floor to your intranet, to your desktop, to your key personnel via email or TXT messaging - wherever you need it most
Monitor your critical processes and/or machines recording, alarming, alerting, trending, and informing as needed to meet your production and business goals
Monitor multiple systems from a variety of vendors in one. seamless system
Review our application stories to see a small sampling of what we have done for our clients.
Whereas most systems integrators are excellent at combining the mechanical and electrical needs of a solution, they often are weak in the area of programming and technology integration. We specialize in just this area. Many of our clients are themselves systems integrators that have their own specialty realizing the value added by KCC Software. Likewise, many of our clients are manufacturers or other end users that have the mechanical and electrical capabilities already in house. It is the programming and software systems integration that they need to be able to develop and complete the processes they desire.
"KCC Software was our choice for the upgrade of one of our most important Gas Delivery systems here at Watson. KCC Software handily demonstrated their ability to develop and build a first class PLC based gas control system. This was no surprise, what was impressive in my view was their keen comprehension of the control routines of our system as they relate to toxic gas management and it's safe delivery. From inception to delivery, KCC's attention to detail never wavered. When dispensing something as explosive and unstable as Silane gas there is no room for error. For technology integration or system/process controls, look no further than KCC Software."
- Mark Burke, IBM, T.J. Watson Reaserch Center
We invite you to tour our site, read about KCC Software, look over our project samples, read our application stories, view our client list, review our toolkit and capabilities, and read our news/events. Our contact data is provided when you are ready to discuss what KCC Software can do to help you and your business.
KCC Software is a proud member of AutomationDirect's SIDirect program.